I thought I would go through what I am using on the trail to cook dinner.  I've made some of the stuff and found some unique alternates for other "traditional" items.  Here is the gear list, weight, and what I paid.
| | | |
| --- | --- | --- |
| Item | Weight | Cost |
| Evernew Ulta-Light Titanium Pot ECA252R (0.9 L) | 105 g | $56.00 |
| Bic Lighter (regular size) | 21 g | $2.00 |
| Super Cat alcohol stove (homemade) | 6 g | $0.50 |
| Windscreen (homemade) | 26 g | $2.00 |
| Pot cozy (homemade) | 75 g | $0.50 |
| Joie 3-in-1 Spoon, Knife, Fork (SFK) | 17 g | $1.00 |
| Silipint 12 oz cup | 180 g | $6.00 |
| Total (doesn't include fuel) | 430 g (0.95 lb) | $68.00 |
I've used the Evernew UL Titanium* pot about 4 times now and tested it numerous times at home.  There were some reviews complaining about how flimsy the pot and lid were.  All I can say is, well, yeah.  It's super ultra-light and that means the pot and lid are pretty thin, which makes them both less rigid than your normal cookware.  That's not a real issue for me.  The fact that it is light and thin means that I don't have to use a lot of fuel to heat a lot of thermal mass when cooking my food.  And being titanium, I'm not concerned about oxidation or corrosion of the metal.  It's also a littler wider and shorter than other 0.9 L pots.  There are much less expensive options out there, but I felt this expense was well worth it.
I'll use the alcohol stove when I can.  I know that in some areas/parks/forests, any stove without an "on/off" switch is not allowed.  For that, I've ordered one of the BRS mini stoves.
This is actually the sixth iteration of my attempt at making a windscreen.  The other five attempts were absolute failures.  There are no real guides on the Internet (that I could locate) for making one other than "Take some heavy duty aluminum foil.  Make a cylinder to fit your pot.  Voilà!"  Well, the heavy duty foil that you purchase at the grocery is junk for this purpose.  I suppose it's not real refined aluminum or maybe due to its relatively thin construction, but it never lasted for more than two tests with the Super Cat.  Usually during the first burn test, it oxidized and part of it turned to aluminum oxide rendering it useless because it was now powder.  And it didn't matter how many "layers" of foil I used.  I finally found a very heavy duty roasting pan (Handi-Foil Roaster/Baker Pans, Healthy, with Grease Absorbing Liner) on clearance at Kroger and cut it up.  I made one version using the pan sides that was a horrible flop.  This is actually the second version using the bottom and it has performed extremely well thus far.  I reckon if one had some aluminum flashing laying around, that would work if it was flexible.  You'll notice the little flap that folds down through which the pot handles stick.  That was done to keep the flames from licking up the side and burning the silicone insulation on the handles.  Yeah, it happened on one of my other tests and I had to cut off 1/2" of burned silicone from the lower part of each handle.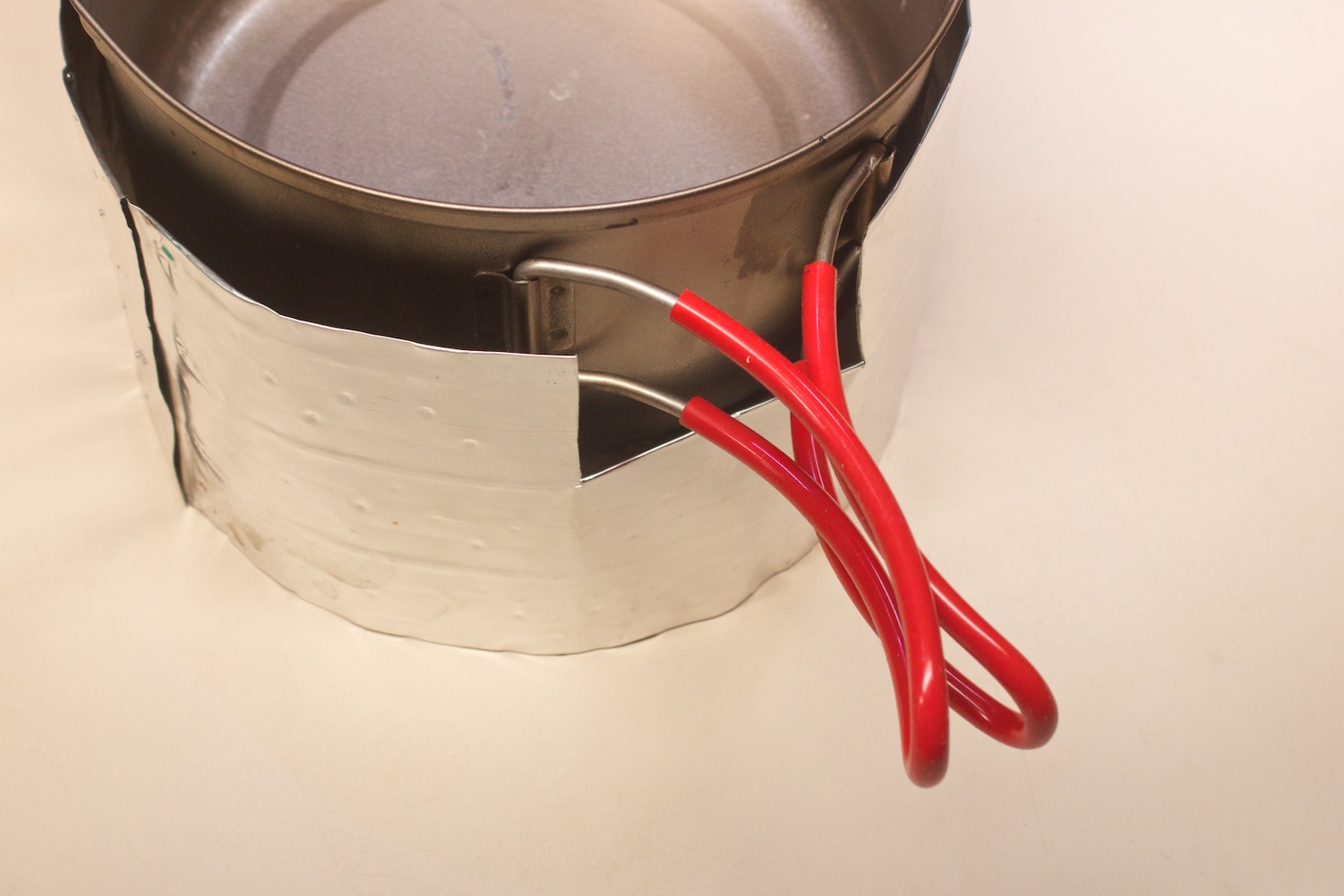 The pot cozy was made from a Reflectix bubble wrap insulation* windshield shade and Gorilla Tape*. I was all set to order some of the insulation when  I found one of the auto windshield shades made of the stuff laying on top of everything in the dumpster in the marina.  Absolutely nothing wrong with it other than the elastic band that holds it all together when it's folded up was all stretched out.  WIN!  I got the idea from Erik the Black and I made modifications as necessary.  I cut slits in the cozy to allow for the handles to stick out.  I can then fold the handles in and the lid slips over them.
Jodi actually found the nifty little Joie SFK at Tuesday Morning the week before my hike.  It's not available on Amazon, but if someone wants one, and you don't have a Tuesday Morning by you, let us know and we'll get it for you.  They're dirt cheap at $1.99 (Tuesday Morning price) for a set of two SFKs.  Just leave a comment below and I'll get in touch with you.  It worked great for me for dinner and breakfast.
The Silipint cup is kinda heavy for "ulta-light", but it was inexpensive.  I talked about it in this post.  I've used it quite a bit since then.  I still like/love the idea of it and will most likely continue to use it.  There's just one problem with it.  I used it twice to make some instant Starbucks White Mocha coffee.  The silicone absorbed the odor of the coffee beverage.  Uuugghhh…  Now anything I drink has that smell.  Once it happened I recalled the same odor absorbing issue with my Austin Marathon Silipint that was given as swag.  I keep hoping that if I continue to use it, the smell will dissipate.  Or I can only drink White Mocha coffee out of it.
Everything but the Silipint fits in the pot and then the pot gets put in the cozy.  Makes for very compact storage.