These little barn swallows have got to be some of my favorite birds.  They are true daredevils in the sky.  They build the most spectacular little nests out of what I presume is mud and twigs and other matter.  And it would seem that their favorite meal is mosquitos.
This little guy perched on the lifelines on a neighboring boat and sat there for a good while cleaning himself and looking around.
Once he flew off, it was back to work for me.  As we are getting ready to head somewhere, there are some last projects that need to be tackled.
We've been focusing on making sure we don't have an MOB (man overboard) or WOB (woman overboard) situation.  That means jack lines, tethers, and harnesses to hopefully keep us on Emet and at least attached to her if one of us does go off.  We made our own jack lines and tethers and purchased one harness for me off ebay.  It was a fair deal at $40 as it was new and half the cost of one on the shelf.  Unfortunately, we could not find one at such a great price that would fit Jodi.  The least expensive harnesses out there are about $85 each shipped.  Yes, Jodi is worth more than $85, but it's one of those things where the dang harness is $10 in material at the wholesale price and they are selling them for a price that amounts to thievery.  I found industrial fall harnesses brand new with 3 times the material that were selling for $50.
As I had a template in the one that we purchased, I set about pricing out the materials to make one.  Grand total:  $30 retail with shipping.  Not bad and it's simple enough.  And we save about $40 to $50.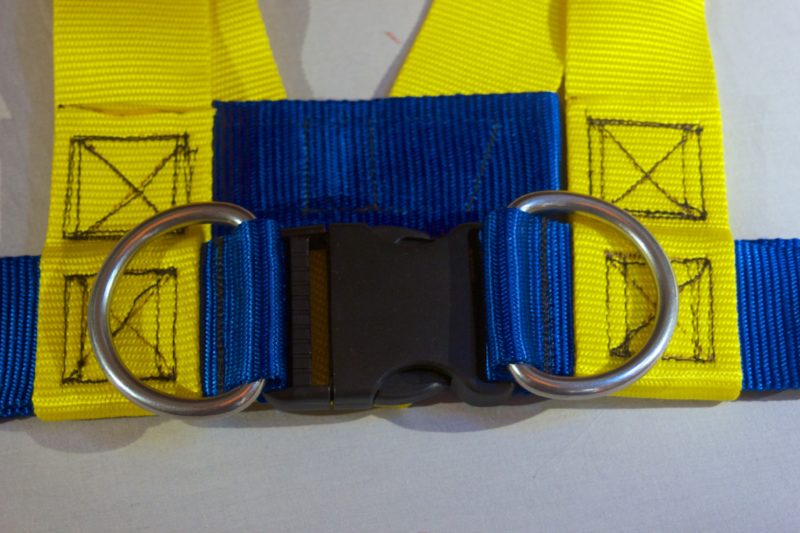 This harness is a little beefier than the one we purchased for me.  We got everything, save the webbing slider, from strapworks.com.  The webbing slider we ordered from sailrite.com.  Hopefully it fits snuggly against the D ring (the one on the left side of the first two pics) that is used to cinch up the harness around the chest.
I do enjoy making things on my own.  I'm getting better at using the sewing machine as this is now the 4th or 5th project that I've sewn.  I still have to follow up with some hand sewing in a couple of places as the little Singer just didn't want to push through 5 or 6 layers of webbing.  4 was no problem.  But, 5 was a very, very tight fit under the presser foot and the needle was visibly deflected while going through the webbing to the point that the machine would bind.  A bigger needle might remedy that, but I have no doubt that the Singer 4411 was NOT intended for what I was using it for.  I will power through the 5 layers with some good ole elbow grease.
In the end, making this ourselves is about self-reliance.  The more we learn to do, the more we can do.