Hre's why I chose the Big Agnes Flume UL 30 sleeping bag and my first look at it.
I agonized over  my sleeping bag purchase more than my backpack purchase.  Sleeping bags are just . . . more complicated.  Quilt, rectangular bag, mummy bag, down insulation (goose or duck), synthetic insulation, temperature rating, EN rated, not EN rated, fill power, overall weight, price!, etc.  The options go on depending on manufacturer.  If you've looked at sleeping bags, you know.  If you've never looked at light to ultra-light sleeping bags, then you are where I was.  I'll save an explanation of all that information for another post.
My Sleeping Bag Requirements
Weight:  It had to be somewhat light.  As a result, my goal was to stay around the 2 pound mark. Ultralight wasn't really what I was going for, but it would be nice.  I just didn't desire a bag that was 3 to 4+ pounds.
Style:  When sleeping during winter in our bed, I always wear my beanie.  I'm bald, therefore I need something to keep my head warm.  Jodi also says that I roll up in the blankets like a burrito and leave none for her.  I do like to be rolled up tight.  It keeps me nice and toasty warm.  With all those things in mind, a mummy bag seems like the perfect fit for me.
Price:  I really didn't want to break the bank.  Consequently, my target price was initially set at $200 to $300, with a little wiggle room.
Fill type:  I really don't advocate hurting/harming animals, but I do recognize the superior insulating power of down.  That said, I looked for a bag manufacturer that responsibly sourced their down.
Temperature rating:  Living in Texas, but wanting to hike into northern states, I would like to have one bag that can go from hot to cold.  Tough call for that.  I was originally looking at 20 degree bags, but allowed for bags that were as high as 30 degrees.
Big Agnes Flume UL 30 Technical Specifications Overview
Weight:  Long left – 1 lb. 8 oz. (680 g); Regular left – 1 lb. 6 oz. (624 g)
Price:  MSRP $449.95 to $499.95 (as of the writing of this post)
Style:  Mummy
Fill:  850 fill DownTek™ water repellent down
EN Lower limit:  19 degrees F
EN Comfort limit:  30 degrees F
Shell:  Ripstop nylon with water repellent finish
Lining:  Ripstop nylon
Fits up to:  Regular – 6′ 0″; Long – 6′ 6″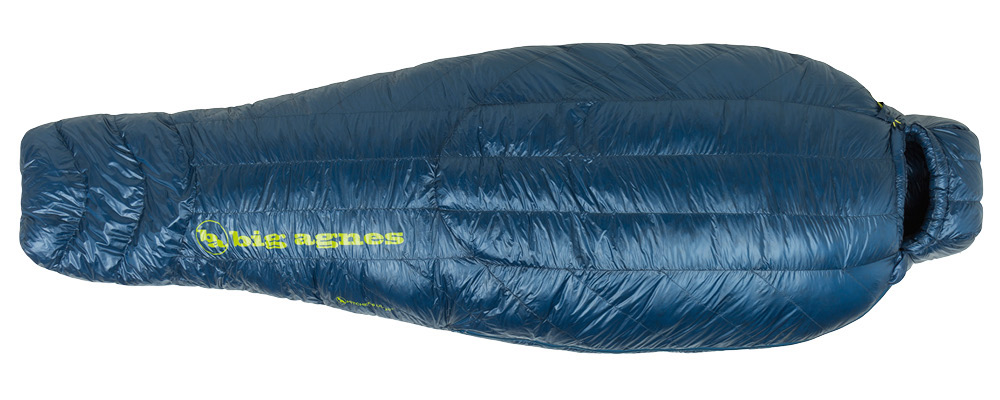 How the Big Agnes Flume UL 30 Measured Up to My Requirements
Well, it faired excellent on pretty much all of them.
I had to purchase the long.  (Sometimes it just really bites being 6'1″.)  Even then, this bag is light.  At a pound and a half, stupid light even.  So, in that respect it got an A+.  An extra plus for me was that the zipper did NOT go the full length of the bag.  I may change my mind on that later, but my thought is that I don't want to deal with a zipper all the way at my feet, so why have it go there.
It's a mummy bag and it looks like it will keep my head warm.  A+ for style.
The temperature rating is somewhere between 20 and 30 degrees F.  Right in the target area.  And it appears to be EN rated.  I plan to sleep in warm clothes in cold weather, because I hate getting out of a warm bed into a cold environment with nothing on.  I'll also probably get a bag liner.  All that said, I believe this bag should cover the temperature range I plan to use it in.  I can certainly test it out in hot weather right now.  I'll have to wait until winter arrives to give it a cold weather workout.
The Big Agnes Flume UL 30 has an acceptable fill of down.  I couldn't find whether it is duck or goose, but it is responsibly sourced.  Exactly what that means, I'm not sure.  Hopefully, it means that the down just falls off the birds and someone picks it up off the floor.  I doubt it, however.
The only requirement where I'd say this bag gets a score of D is the price.  Man is it expensive.  Of course, there are bags out there more expensive, but I'm scoring this based on my requirements.  I was able to get a discounted price through a member association, but even then it was steep considering that bags CAN be purchased for $200 to $250 or so that would theoretically meet most of my requirements.
My First Impression
One word:   impressed.  It's hard to get a feel for the construction and small details from Big Agnes' website.  But, once in my hands, I liked the construction of the bag.  It feels like quality.  And it is light.  Ultra-light even.  No doubt about that.
It gained loft within only a few minutes of being taken out the plastic bag it was shipped in.  I think the only thing that disappointed me is that stupid tag mattress and furniture manufacturers are required to put on their goods.  This tag is sewn in and, just as a quick look, I don't see an easy way to remove it.  Minor detail.  Very, very minor.
I wasn't sure if this was one of those bags that had the bottom insulation removed to save weight or not.  I was really trying to avoid those.  It's a good premise, but on a cold night I would like to have some insulation surrounding the bottom side of body.  What my body is directly lying on has no insulative value, but that area around me needs to keep the heat in as well.  I was delighted to see that the Flume UL 30 has insulation on the bottom.
I ran the zipper up and down its length numerous times and I had no issues with snagging or catching.  Even when I was in the bag and zipped it all the way up, it went up smooth.  I zipped/unzipped the bag at least 10 times while I was inside it.  Before I purchased this bag, I considered a zipper-less bag simply because every single bag I have owned in the past was notorious for the zipper catching.  Looks like that is not a problem on this one.
The Big Agnes Flume UL 30 has dual zippers.  Big Agnes says this feature is there for climbers to have easy access at the waist to tie into their harness.  If you're not a climber, and I'm not currently,  I can see where this might come in handy when you want to keep the bag fully zipped closed, but would like to open it some for ventilation.  This would allow for that.
When unzipping the main zipper, it's incredibly easy to zip it all the way down and have the zipper separate completely.  I did that the very first time I unzipped it.  My initial reaction was, "Are you kidding me?  I already broke it?"  Fortunately, that was not the case.  This falls under the same minor annoyance issue as the materials tag.
Following are some pics of the other features of the bag.
How Did it Fit
At 6'1″ and approximately 140 pounds, I encountered no issues getting in with it fully unzipped and the zippers NOT separated.  Remember, I purchased the long.  The foot box had plenty of room.  I wear a size 12 shoe and my feet were able to point straight up with no constriction.  I had plenty of room at my chest and shoulders and was able to lie on my side without it being tight at all.  Moving around inside the bag was no issue.  Truthfully, I wouldn't mind for it to be a little tighter, but being tall and skinny, I never find anything that fits me perfectly.  This bag is for someone up to 6'6″, so  I was able to easily zip it all the way up, cinch the hood, and had plenty of room to move around.   Consequently, I'll give this bag an A for fit.
Other Notes
Testing in a real world environment won't occur for a couple of weeks.  I did zip myself up in it, cinch the hood, and remain inside for about 5 minutes in a 74 degree F room.  I never felt too hot in that very, very short period of time as I sometimes have when climbing under the covers in bed on a hot night.  I'm going to attempt to sleep in it a few nights on the boat.  We keep the inside of the boat around 75 degrees F.  This is still cooler than most Texas summer nights, but I should get some indication of how it will regulate my body heat on a warm/hot night.
Conclusion
The Big Agnes Flume UL 30 is a pricey bag.  But, considering its weight and construction, its in the range of its competitors.  The country of manufacture is China, so that could be a knock against it for some people.  It certainly was not a plus for me.  At this moment I am super stoked about my purchase and the bag has all the features I desired.  For someone like me that needed a light, three-season mummy style bag, it ticks all the boxes.
I can't wait to get out on the trail with it.